Thanks for Supporting Local

By supporting local, whether home-based or brick & mortar, you're helping Canada's small businesses that make our cities unique, thrive and grow.
Our Purpose, Our Mission, Our Vision

At Shop a Local, we want to make shopping local just as easy and convenient as it is to shop the "other guys," while at the same time, raising the bar for the digital shopping experience in the era of intentional shopping.
Support the growth of local small businesses, whether home-based, side-hustle or brick & mortar.
Provide professional, scalable digital marketing support, along with a platform for local small businesses to showcase & sell their products and services, ultimately providing an enjoyable online shopping experience for shoppers looking to support local.
Be the go-to source to shop quality consumer goods online by making it easier and more convenient to buy locally.
From business growth to personal growth, we're on a mission to make an impact, by supporting the growth of Canada's Small Business Communities. We're only successful if our clients are—and that drives everything we do.
Growth is accompanied by social responsibility. We want to help build a world that values diversity and inclusion, equal opportunity, and sustainability. Our mandate is to support local independent small businesses by providing the same opportunities as large corporations in the digital space.
As a digital experience, it is important for us to spotlight the genuine, human collective behind our brand and our clients' brands. Authenticity gives our colleagues and our clients the freedom to express themselves naturally. Authenticity inspires us to genuinely care about our employees, clients and their customers, society, and humankind.
We value good design, professional marketing and quality products. We're committed to building a digital shopping experience of quality engagements with quality brands. We value creative engagement over intrusive advertising. We spotlight brands who take pride in their work and align with our values, producing quality and unique products for the intentional shopper.
We believe in the power of working together. We believe in community over competition. We are founded on the notion of supporting local businesses through collaboration and partnerships. We want to inspire each other to achieve great things. To us, collaboration means evolving together, helping and supporting each other for the sake of a collective goal: growth.
We value progress, evolution and adapting to our community's needs. Innovation, to us, means finding fresh ways to use technology to improve our clients' success. We focus on experiences, customer satisfaction, & consistently improving the digital shopping experience. Failure, mistakes, and the unknown are all opportunities to learn and innovate.
We say what we mean, and we mean what we say. We are honest and open. We will let you know what we can – and cannot – realistically do for you. We take ownership for the quality of our individual work but also take pride in what we deliver as a team; our focus is on a successful outcome for all.
We are mindful of our actions and align ourselves with our core values. We provide solutions to make it easy for others to act on their intentional shopping choices. We are intentional with our priorities and ensure everything we do has a purpose, whether supporting the growth of our clients and community, or being innovative in our experiences.
As part of Shop a Local's commitment to giving back, we are proud to announce that we have made a donation through The Upside Foundation of Canada. We've pledged a small portion of equity for charity, which will convert to a donation to a charity or cause (TBD) on a successful liquidity event in the future. Shop a Local joins hundreds of companies who have pledged, from whom over $1M in charitable donations have already been realized, with many more to come. Learn more and join us by visiting upsidefoundation.ca #sharetheupside
Small, but mighty talented, doing what we can to support local.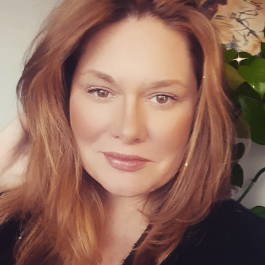 As a serial entrepreneur from Toronto and pipeline driven marketing executive, my decisions are led by the formula behind the conversion funnel, understanding where a business should focus time and effort on making improvements, for the best possible ROI of the marketing budget.
When Covid hit in early 2020 I wanted to support local businesses in going digital, but I wanted to do more than just assist one business at a time. I wanted a way to scale my support. There was an obvious gap when it came to finding and shopping local businesses online and I set out to solve this problem with my experience in web design & development, demand generation, & digital marketing. Coincidentally, (or luckily) at the time, I had already created a blueprint for a marketplace for another eCommerce brand of mine, Velvet & Vine.
So I made a swift pivot and in May 2020 Shop a Local was born.
What started as a simple directory has now evolved into a digital shopping experience across our channels and continues to grow. The mission: Easily connect shoppers making intentional choices with their wallet with the abundance of exceptional independent businesses across Canada, on a marketplace we can truly call our own.
I was born and raised in Toronto with roots in Mimico, High Park/Roncesvalles, Bloor West Village, The Junction and spent the last 10 years in Liberty Village, where Shop a Local all began. Suffice to say, I have a lot of love for the city and a fondness for everything that makes it unique, particularly its neighbourhoods and their communities.
My goal is to preserve & highlight the personality behind the communities across the country as we market the products and services of the businesses that make it who they are.
Shop a Local is the local small business that supports everything our small business community stands for.
Want to Chat?
Get in Touch with Us.